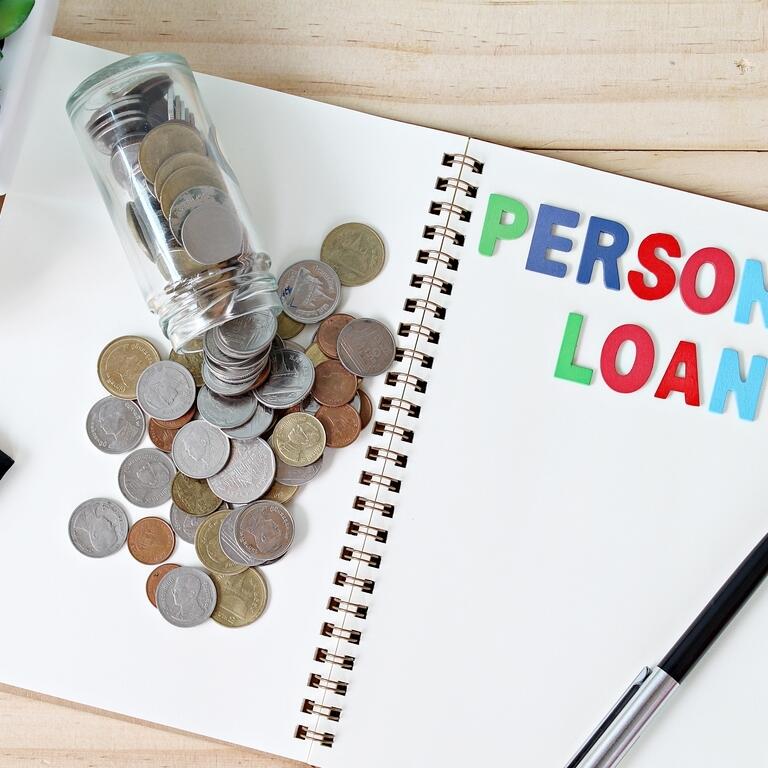 Investment Thesis
Upstart Holdings, Inc. (UPST) is one of the leading AI-based loan origination platforms. The company's key differentiator is to help consumers, and banks obtain higher approval rates, with lesser default risk, and faster through a high degree of automation. Notably, its low-touch platform promises to disrupt major financial institutions' multi-trillion dollars' worth of "archaic" lending practices. As a result, the company and its bank and credit partners have observed stronger loan volumes, and improved loan/loss ratios. Consumers previously denied due to the traditional credit scores used by the major financial institutions have also gained access to loans by Upstart's partners. Upstart has shown tremendous promise and growth as a serious disruptor of a massive lending market. The company is still operating mainly in the personal loans market. But, it has moved into the auto financing market, that's 6-7x the size of the personal loans market.
Nevertheless, Upstart stock was battered since the October rotation when it reached an all-time high (NYSE:ATH) of $401.49. Moreover, it has also continued to drop in December and has since declined about 66% from its ATH.
Therefore, we believe it's apt to discuss what happened and whether it represents a potential entry point for investors.
UPST Stock 1Y Performance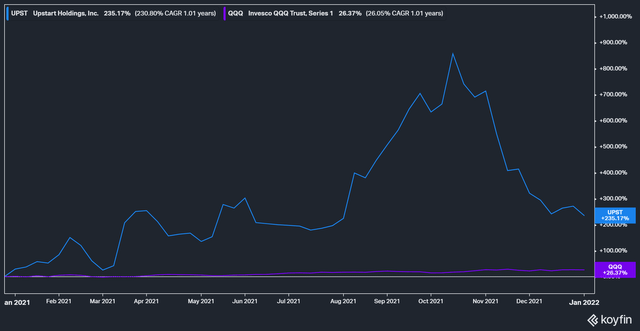 Upstart stock 1Y performance (as of 4 Jan'22).
Despite the recent significant retracement in Upstart stock, it actually had a spectacular year in 2021. The stock's 1Y gain of 235.2% is well above the Invesco QQQ ETF's (QQQ) 26.4%. Therefore, we are certain that early Upstart investors don't have many complaints to air aside from the recent downside volatility. Nevertheless, its notable drop from October through December has almost completely digested its momentum spike from July'21. Therefore, the recent underperformance in Upstart stock has been truly alarming for investors who joined the train late in September-October'21.
What Led to UPST Stock's Continued Decline in December?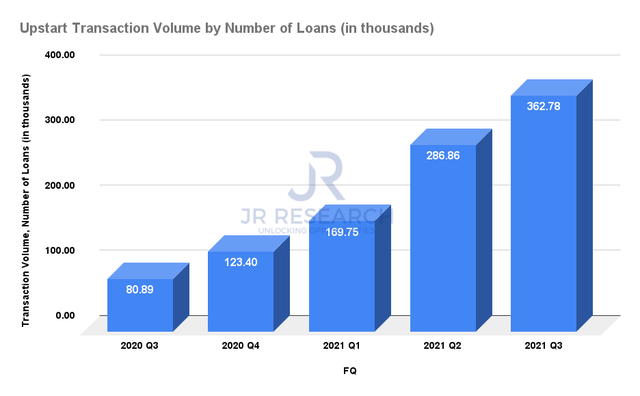 Upstart transaction volume by the number of loans. Data source: Company filings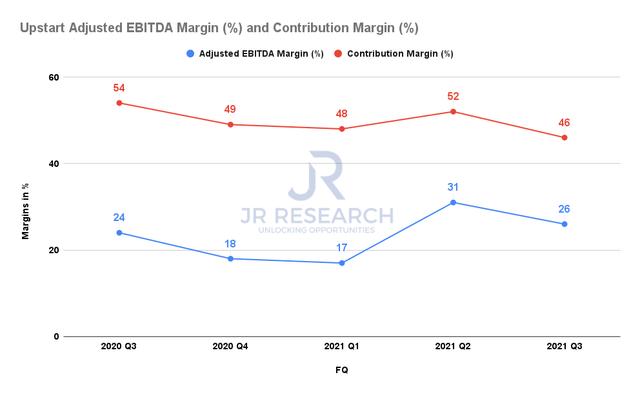 Upstart adjusted EBITDA margins & contribution margins. Data source: Company filings
As seen above, Upstart's loan business continued to gain significant momentum in its recent FQ3 report card. Its loan volume increased to 362.78K, worth $3.13B, and up 244% YoY. Moreover, readers should also note that the company is already profitable. Its margins have been relatively consistent as Upstart posted a contribution margin of 46% in FQ3, down from FQ2's 52%. Its adjusted EBITDA margin also remained robust at 26%. Therefore, Upstart's business model looks highly sustainable, as it attempts to penetrate further into the multi-trillion dollar market. Given the collective size of its loans so far, it's still very early in its colossal market opportunity.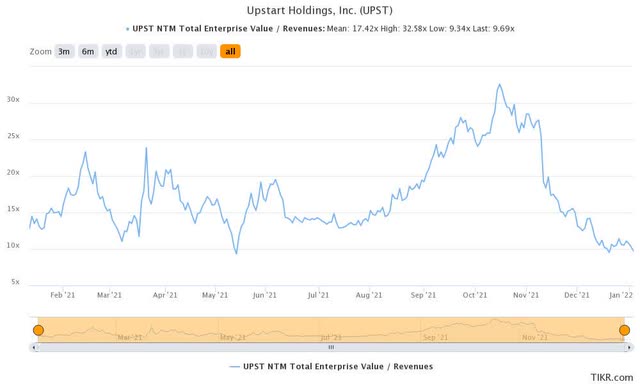 Upstart stock EV/NTM Revenue trend.
Nevertheless, we cannot turn a blind eye to valuations as investors. At its October ATH, the stock was trading at nosebleed valuations that even exceeded 30x NTM revenue at one point. Nevertheless, despite dropping to a low of 15x in early December, the stock continued to experience volatility to the downside as the bulls and bears jostled to value the stock. The bears have been winning so far, while UPST stock has recently consolidated around 10x NTM revenue.
Moreover, we also noticed that hedge funds have significantly pared down their holdings in UPST stock since April. These hedge funds collectively held about 604K of shares in the April'21 quarter. However, their holdings have dropped to just 25K shares by the end of September. Without significant hedge funds participating in supporting the stock, we believe that early investors sitting on significant gains continued to take the opportunity to pare down their risks and further reduced their exposure in UPST stock.
Notably, many fintech and payments stocks came under significant pressure in December. Therefore, the de-rating in these stocks has also impacted UPST's premium valuation. There's little doubt that UPST is a highly promising growth stock still in the early innings of its potential. But valuations matter in the near term, and UPST stock has not been spared.
Where Will Upstart Stock Go From Here?
We don't think anyone can tell you exactly how the stock will perform in the near term. But, given that it's a highly volatile stock, we must inform you to continue to expect significant volatility as investors make sense of its valuations. Nevertheless, as mentioned, we believe that Upstart's opportunity to disrupt the broader lending market is massive. Moreover, given that it's already profitable, it has also validated its business model. Nevertheless, this doesn't mean competitors cannot emulate Upstart's success or encroach on its competitive moat. Moreover, its revenue is driven mainly by its exposure to the personal loans segment. Therefore, it has not justified whether its AI model can succeed in other verticals, such as the auto lending market that it has been targeting.
But, Upstart remains highly confident and committed to its approach. Moreover, it is convinced that it takes years to build its data-driven approach and AI algorithms for competitors even to come close. Upstart Co-Founder and Head of Product Paul Gu emphasized (edited):
It will be difficult for somebody else to get started in this area, not impossible, of course, but challenging. And it boils down to the core fundamentals of our AI system. There are rows of data, there are columns of data and then there are learning algorithms. These are the three fundamental building blocks of the system. To build our system, you need to do these three things in concert because if you only move one or two of these blocks, the other one very quickly becomes a limiting factor. And it ends up being difficult for people to manage improvements at a similar pace across all three of these blocks. Each of them is individually hard to gather, but to do them at the same time in a way where none of them are bottlenecks, it's hard. (Citi's 11th Annual FinTech Conference)
Notably, Upstart has been working to "perfect" its AI model for the last eight years, and it has continued to iterate incessantly in training its model. As a result, we believe that it sets the stage for the company to lead as it's highly challenging for competitors even to match its leadership at the moment. Nevertheless, it means that investors must continue to monitor Upstart's competitive moat very carefully and keep an eye on its competition.
We believe that Upstart's diversification into auto lending will be critical as it expands into a much larger lending vertical. Nevertheless, results have not been material yet and would only be meaningful this year. Therefore, it's possible that some investors could have felt the uncertainty surrounding its new foray and taken the opportunity to cut exposure. We think Upstart needs to prove that it can successfully penetrate the highly competitive auto lending market by leveraging its AI models.
Nevertheless, the company remains confident in its ability to penetrate the market. In addition, it also believes that it can partner with the captive financing arms of the auto OEMs. It believes that it can leverage the superiority of its personal loans product to auto lending. Co-Founder and CEO David Girouard emphasized (edited):
Everybody in the auto lending ecosystem today is potentially a partner of ours. There's really not a competition per se. For the OEMs that have their own captive financing arms, we can help them make better loans just by having better risk models. So that's important or even some of the banks that are in the industry today, we certainly would hope to work with them so that they can actually have better performance on loans and approve more people. So when you have fundamentally better risk models, there are a lot of opportunities to go around. So, we don't have to necessarily knock anybody out of the industry, but just upgrade the different ways that people play in the industry today. (Citi Conference)
So, is UPST Stock a Buy Now?
The stock had found support previously when its valuation reached around 10x NTM revenue. It's currently trading at an EV/NTM Revenue of 9.7x. Our internal fair value estimates also point to a stock that's undervalued.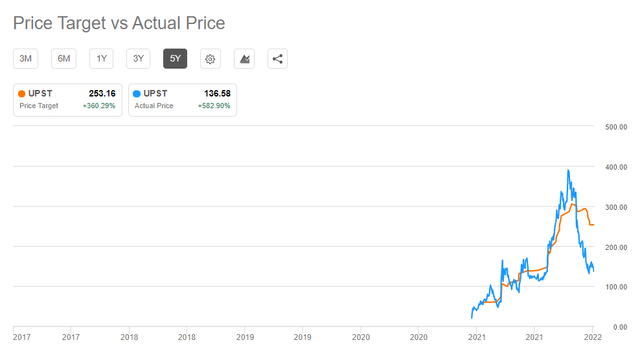 Upstart stock price target Vs. price performance. Source: Seeking Alpha
Moreover, the Street remains confident of UPST's business potential. It's the most significant valuation gap between its consensus price target and its current price as observed above.
Therefore, as discussed, we believe that there are sufficient confluences for us to be confident about its medium-term and long-term prospects. While we cannot predict its trajectory in the short term, we are confident that it will outperform the market over time.
Consequently, we rate UPST stock as Buy for long-term growth investors only.