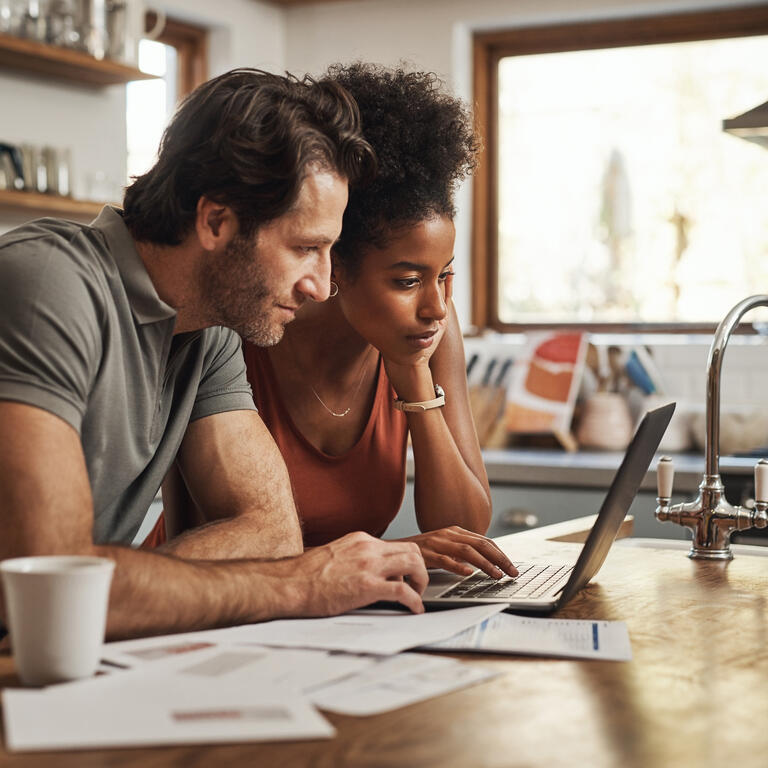 (This article was co-produced with Hoya Capital Real Estate.)
In my most recent article, I offered readers a review of Invesco S&P 500 Low Volatility ETF (SPLV), one of the ETFs included in the ETF Reliable Retirement Portfolio.
In the comments section, a couple of readers made the observation that they liked iShares MSCI USA Min Vol Factor ETF (USMV) a little better than SPLV. Since I had never covered this particular ETF, I decided to make this my next project.
In this article, I will dive into USMV. In the process, I will offer some comparisons to SPLV, while this is all fresh in my mind. At the conclusion, I'll step back just a little further and also compare this ETF to another excellent ETF I recently reviewed, as well as look at all of them stacked up against the S&P 500 index. In this fashion, I hope to share some meaningful comparisons, along with further information you can pursue that may help you decide which, if any, of these options deserve a place in your portfolio.
iShares USMV – Digging In
With an inception date of 10/18/2011, USMV recently celebrated its 10th anniversary! As of 1/3/2022, it has AUM of $30.296 billion. At .15%, its expense ratio is a little higher than a low-cost index fund, but excellent within its class. Even better, trading in the fund is active enough that it maintains a tiny .01% trading spread.
As a side note, readers will note that I typically include the trading spread in the stats I feature on the ETFs I cover. While, if you are a long-term holder as I tend to be, the trading spread is not that meaningful of an issue, it is helpful to get an idea of how widely-traded, or liquid, a particular ETF tends to be. Of course, for active traders, this becomes even more relevant.
Here's how Seeking Alpha describes USMV:
The investment seeks the investment results of the MSCI USA Minimum Volatility (USD) Index. The fund will invest at least 80% of its assets in the component securities of its underlying index and in investments that have economic characteristics that are substantially identical to the component securities of its underlying index. The index measures the performance of large and mid-capitalization equity securities listed on stock exchanges in the U.S. that, in the aggregate, have lower volatility relative to the large- and mid-cap U.S. equity market.
USMV is managed by BlackRock Fund Advisors (hereafter BFA). Digging into this a little further in the fund's prospectus, we are able to uncover a little additional detail.
The MSCI USA Minimum Volatility Index pulls constituents from the broad, cap-weighted MSCI USA Index. From this "parent" basket of large- and mid-cap stocks, MSCI attempts to optimize to find the subset of stocks with the lowest aggregate volatility, both in terms of the individual stocks themselves, but also considering the interplay with other selected stocks. The model also takes into account factors such as financial liquidity and leverage levels.
Admittedly, the description provided above is a little opaque. At the same time, the limitations with respect to weighting of each individual stock, as well as each sector, prevent style drift, and help to limit the amount of turnover incurred at each semiannual rebalance.
So what kinds of companies tend to get included by this approach? Let's start with SPLV's Top-10 list.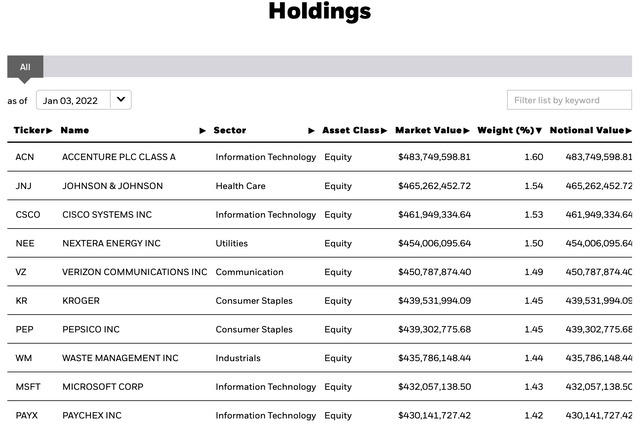 Source: iShares USMV Website
As you scan that list, take note of the diversity reflected in those 10 holdings. All of these companies boast premier market share within their respective categories, as well as solid cash flows and strong financial footing.
Next, let's pull back a little bit to examine the larger picture, the overall sector breakdowns.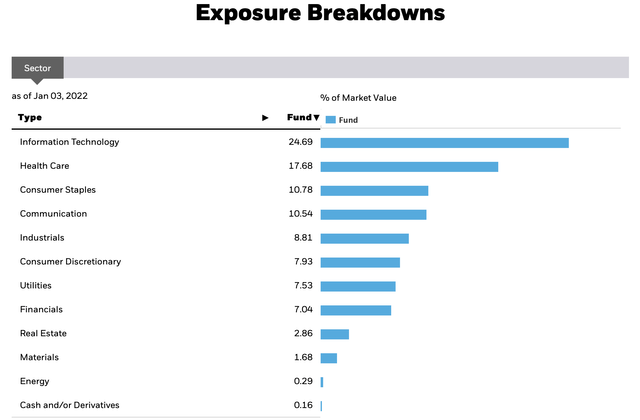 Source: iShares USMV Website
As can be seen here, USMV has a defensive tilt. Here are just a few examples. At 17.68%, Health Care is weighted about 4% more heavily than in the S&P 500. Same with Consumer Staples; 10.78% in USMV vs. roughly 6% in the S&P 500. Lastly, Utilities comprise 7.53% of USMV vs. a mere 2.49% in the S&P 500.
I do want to take note of one detail I think may be important. At 24.69%, USMV's exposure to Information Technology has held it in decent stead of late when it comes to growth. At the same time, as featured in the themes I selected for the ETF Reliable Retirement Portfolio (linked above), I have a concern that this could be a drag on performance moving forward, given the lofty valuations of this sector. More on that a bit later.
USMV – Evaluating Performance Against Selected Alternatives
As promised in the introduction, I'd like to spend a little time evaluating USMV against two other ETFs I have recently reviewed, as well as the Vanguard 500 Index, as a reference point. The two ETFs are SPLV, mentioned at the outset of the article, along with Schwab U.S. Dividend Equity ETF (SCHD), another ETF I recently reviewed favorably.
First of all, just one comparative detail against SPLV. As mentioned in my introduction, I decided to take a closer look at USMV as a result of readers mentioning a preference for this ETF as compared to SPLV. This was the only note of caution I shared with one such reader.
At this precise point in time, I would simply like to make one observation. USMV is currently about 25% weighted in Information Technology vs. about 10% in Consumer Staples. Roughly speaking, this is the inverse of SPLV. Of course, each investor must decide their own view, but if one believes that technology is a little frothy at this point in time, that may not be a good thing.
For readers who would like to take a quick look for themselves, here are links to Seeking Alpha's landing pages for USMV and SPLV, respectively. In particular, look for the Holdings Breakdown on each page.
Finally, let's take a look at a Portfolio Visualizer backtest. This backtest runs from January, 2012 through December, 2021, with the period limited by the inception date of USMV.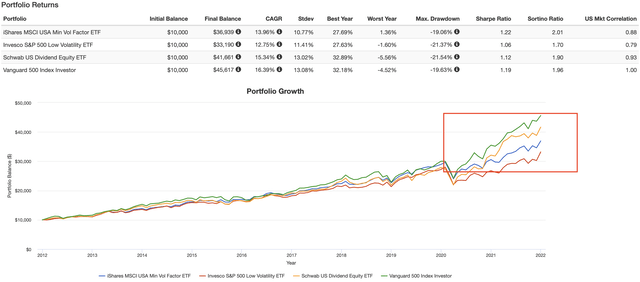 Source: Portfolio Visualizer Backtest
As can be seen, over that 10-year period, USMV has performed extremely well. In fact, it features the highest Sharpe and Sortino ratios in the comparison, meaning that it did the best job in terms of risk-adjusted returns. Looking at this, I would also have to yield to the reader who posited that he felt this was a better overall choice than SPLV.
Going a step further, USMV also performed very well against SCHD, another feather in its cap, so to speak.
In the area highlighted in the red rectangle, I attempted to draw your eye to the results of the 3 ETFs, and the overall S&P 500 index, since the March, 2020 COVID-related market crash. Of the 4 ETFs, SPLV, with its conservative methodology, has been the worst performer over this period. At the same time, I feel there is a possibility, as mentioned before, that it could outperform for at least the near term moving forward.
Summary and Conclusion
I'm happy I finally had the opportunity to review USMV. Over the past 10 years, it has clearly offered extremely solid risk-adjusted returns. I feel obligated to point out the fact that the March 2020 downturn was the first time USMV didn't perform so well in the midst of a market downturn. Certainly, this could be viewed in a negative light. Alternatively, one might take the view that this was one aberration, based on the 10-year track record I feature above.
What about SCHD? You might select this ETF if you are in search of higher potential absolute returns. And, SPLV may well serve you well at this particular point in time, especially if the idea of receiving dividends on a monthly basis is attractive.
Until next time, then, I wish you…
…Happy investing!