21:52
Australian Covid cases hit new highs
More than 71,000 new cases have been recorded in Australia so far today, from New South Wales, Victoria, Queensland, South Australia and Tasmania.
NSW had 34,994 new cases and six deaths – and about 31% of those tested were positive, which is an alarming proportion. Six people died, and there are now 1,609 people in hospital, and 131 in intensive care units.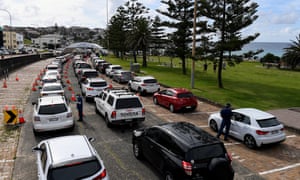 In Victoria there were also six deaths, and 21,997 new cases. Victoria also has a positivity rate from testing of about one in three. 631 people are in hospital with 51 in intensive care.
Queensland has recorded 10,332 new Covid cases, and one person has died.
There are 284 people in hospital, and 12 in intensive care, including two on ventilators.
Tasmania has reported 751 new Covid cases, which is a drop from the record 867 cases reported yesterday. One person has been admitted to hospital.
South Australia has recorded 3,070 cases, with 123 people currently in hospital and 12 in ICU.
Updated

21:23
A day after Hong Kong announced a two-week ban on flights from eight countries with rising Omicron cases, neighbouring Macau has gone a step further and banned all civilian flights other than those coming from mainland China.
The ban is in place until 23 January.
Hong Kong's leader Carrie Lam announced the city's ban on flights on Wednesday, over fears the region was on the verge of a fifth wave of Covid-19. Three community cases were recorded on Wednesday in Hong Kong, prompting a raft of new restrictions on dining and other leisure activities.
The eight countries banned from sending planes into Hong Kong are Australia, Canada, France, India, Pakistan, the Philippines, Britain and the US, including stopovers and transfers.
20:10
Italy has made it obligatory for people aged 50 or more to be vaccinated against Covid-19 as the country scrambles to ease pressure on hospitals and reduce deaths amid a dramatic surge in infections.
The measure is among the toughest vaccine mandates in Europe and takes effect immediately. The move was unanimously supported by ministers despite divisions between the parties that make up prime minister Mario Draghi's broad coalition before the cabinet meeting on Wednesday.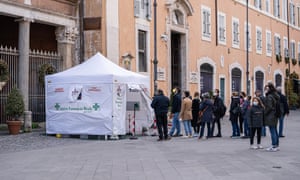 Italy also tightened its workplace vaccine rules and from 15 February, people aged over 50 who are in jobs, either in the public or private sector, will have to present a health pass proving immunisation or recovery from Covid-19.
Hospitals are under increasing pressure because of the Omicron variant. Italy registered 189,109 new infections on Wednesday and 231 fatalities, bringing the death toll to 138,276, the highest in Europe after the UK.