The July 17 "Arlington Million Preview Day" succeeded in many respects—drawing a big crowd to the track amid perfect weather, rewarding one of the track's most successful trainers and another working his way up and identifying two likely candidates for the grade 1 races there Aug. 14.
Bizzee Channel  won a narrow victory in the $100,000 Arlington Stakes (G3T), the prep for the $600,000 Mr. D. Stakes (G1T)—the former Arlington Million, setting eight-time Arlington International Racecourse training champ Larry Rivelli up for his first-ever Million starter.
Naval Laughter  scored in the $100,000 Modesty Stakes (G3T), handing trainer Chris Davis his first graded-stakes win and earning at least a nomination to the Beverly D. Stakes (G1T) on "Million" Day.
Bizzee Channel raced just off the pace in the Arlington Stakes, found a small opening along the rail as the field hit mid-stretch, and was just up to win by a head over Two Emmys . Another Mystery  was third.
Rivelli has dominated the local training ranks for years but has never had a horse in the Million and his enthusiasm for his prospects this year is not dimmed by the changes in the name of the race or the purse money.
"We haven't won it—yet," Rivelli said. "But you can bet we're going to be there this time. I wouldn't have a horse in the race if I didn't think I could win it. This time, I do."
He said he decided to set Bizzee Channel's course for Arlington's biggest race after the 5-year-old English Channel   gelding out of Mizzen Mast   mare Bizzee Mizzee  won an allowance optional claimer over the local turf June 19. That was his third win from four starts on the Arlington grass.
"This is home. I just thought we'd stay home and see what happens if we take on the big boys," Rivelli said.
Bizzee Channel became the first stakes winner of the dam's seven foals.
Winning rider Jareth Loveberry said he always planned to take an inside path late.
"I knew when we turned for home that I had plenty of horse," he said.
Video:

Arlington S. (G3T)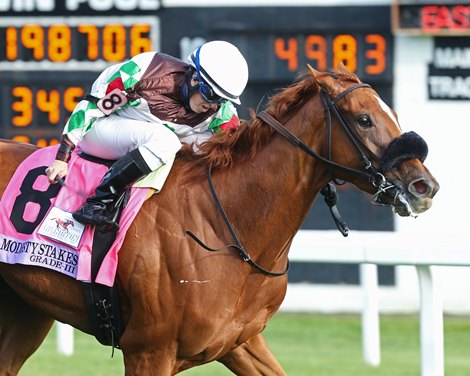 Naval Laughter wins the Modesty Stakes at Arlington International Race Course
Naval Laughter's victory in the Modesty was similar to Bizzee Channel's. Jockey Sophie Doyle, a former Arlington regular, kept the 4-year-old Midshipman   filly well off the early speed and moved to the lead inside the furlong pole. Despite racing a bit greenly in just her fourth start, she carried on to win by half-length over Joy Epifora .
"She was absolutely fantastic," Doyle said. "She took me right into the race. When I called on her, she showed me more gears than I ever imagined she could have."
Davis said he would celebrate his first graded stakes win by calling the filly's owner, Anthony Braddock of Two Heart Farm.
"The best thing about this," Davis said, "is that she's a homebred. He owns the mare and there's a sibling on the ground."
Naval Laughter is the lone starter of five foals out of the Medaglia d'Oro   mare In Stitches . Among her four unraced foals is a yearling colt by Summer Front   and foaled a Bernardini   colt this year. 
Davis said he will consult with the owner, "but I know we'll be nominating to the Beverly D."
Video:

Modesty S. (G3T)