creative studio lazerian unveils a hybrid space with an otherworldly atmosphere in the city center of manchester, the UK. part art gallery, part café-bar, 'lazerian space' is a concept that merges it all. the interior features six of lazerian's walk-in-pods, each of which invites visitors to unwind inside a different chromatic experience.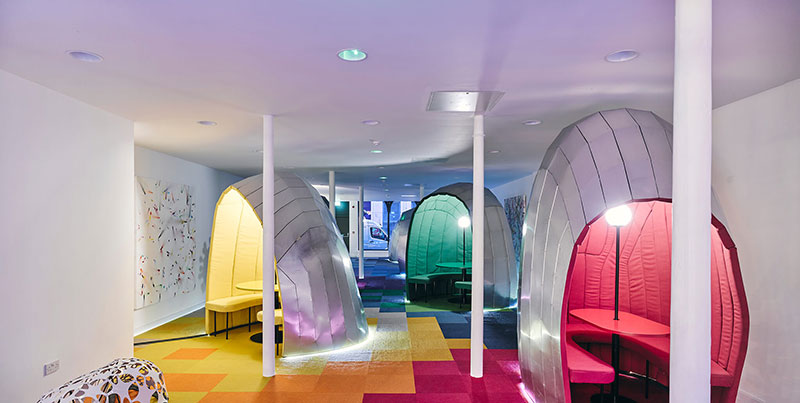 lazerian space in the day — each aluminum pod is unique in size, shape and color
imgaes by gu photography
lazerian space was created as an ephemeral place that will continue to change and evolve over time. lazerian also prioritizes sustainable design with the use of recycled materials and the creation of a circular economy.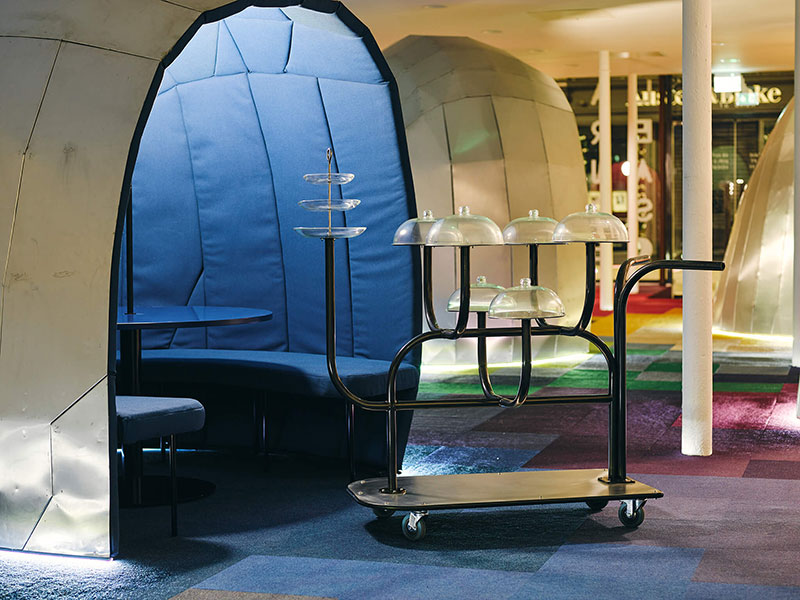 there are two trollies in the space that are inspired by space satellites
the aluminum pods — or 'stations' — range between 2.4m to 2.9m, and each features its own colored upholstery with matching colored table. the fabric that lines the seating and padded walls has made using approximately 6,500 plastic bottles that have been removed from our oceans.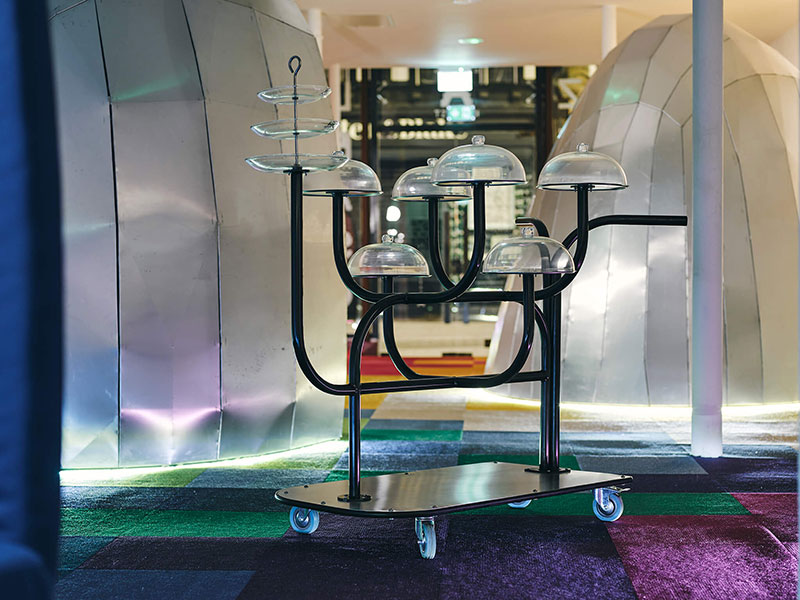 the trollies can be transported from pod to pod showcasing a selection of cakes & pastries made by local suppliers
the different colors of the pods were curated with color psychology in mind; shades were carefully chosen and positioned to provoke different emotions and to maximize the entire multisensory experience. 'it will be interesting to see the effects of the shapes, sizes and colors of the installation and how it can affect people,'  says lazerian.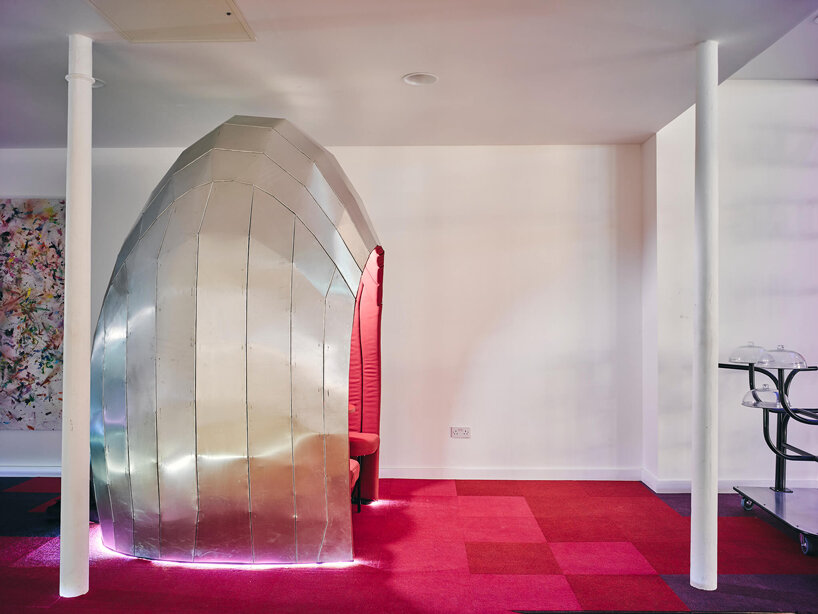 as well as color, the creative team also worked with nearby company tyson lighting to establish the right ambiance inside each pod. they designed a ball of light on a slim singular black attachment to enhance the otherworldly atmosphere. sourcing local talent and suppliers was another key element of the project; all of the manufacturing supplies to create the space, from the flooring to the fabric, were sourced within a 50 mile radius and the menu features locally sourced cakes and chocolates as well as local beer, spirits and specially designed cocktails.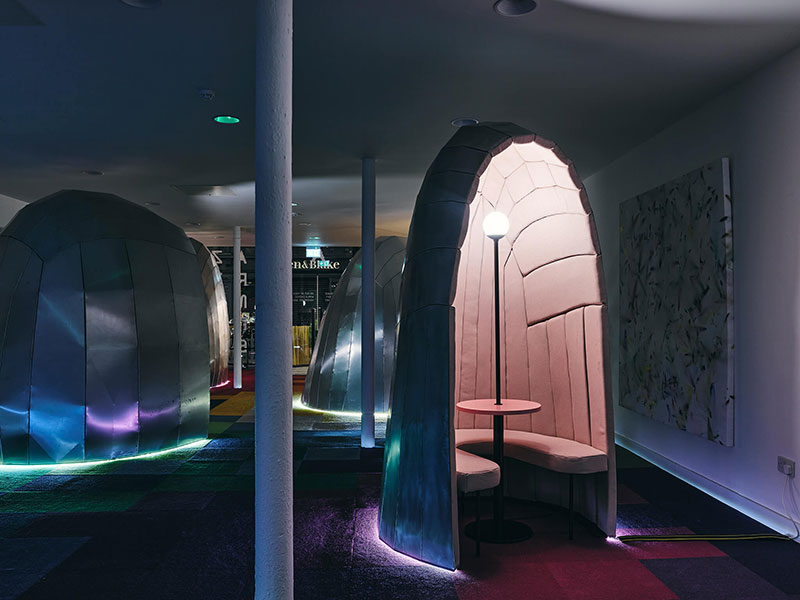 lighting within the pods is an extremely important part of the concept
with this project, liam hopkins, founder of lazerian and lazerian space, hopes to make art more approachable and accessible by inviting people to sit down, unwind, and actually become a part of the artistic installation. opened during COVID times, the individual stations also offer the perfect solution to socializing as people can feel safe and enveloped in their own little world.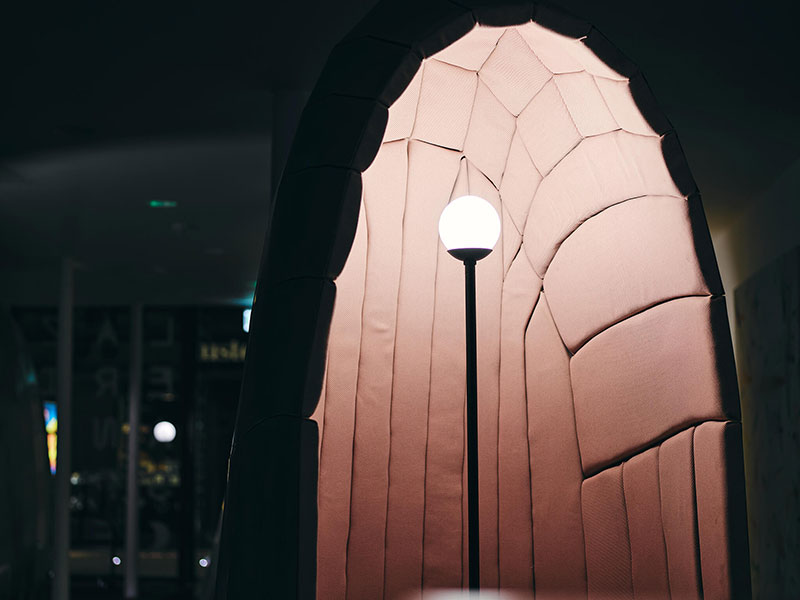 with an elegant slim attachment, the circular topped lighting was provided by tyson lighting
'creating lazerian space has always been an aspiration of mine for as long as I can remember. however, due to constraints such as time, it hasn't been possible until now,'  says hopkins. 'looking for a positive in COVID times is important and having this experience to focus on has been constructive and beneficial to everyone involved.'