Following the opening session of this week's OBS June Sale of 2-Year-Olds in Training and Horses of Racing Age, Todd Wojciechowski, director of sales for OBS, said that the June sale is "all grown up." This year's three-day auction, which concluded June 11, backs up that claim.
Once viewed as the last stop in the 2-year-olds in training sale season, the June sale has generated a pipeline of graded stakes-winning graduates in recent years, and as the quality of the stock on offer has improved, so, too, has the auction's popularity with both sellers and buyers.
Fueled by a competitive marketplace at the top-end of the market and steady trade throughout, this year's June sale established new records across all key economic indicators.
Horses in the walking ring are paraded in front of potential buyers at the OBS June Sale
For the entire sale, 560 2-year-olds changed hands for a sale record $24,492,950, surpassing the previous record of $23,608,500 set in 2015. The average price was a record $43,737, eclipsing the previous mark of $39,612 recorded in 2015. The median price of $20,000 also equaled a sale record. The overall buy-back percentage was 18%; it was 20.2% last year.
In Friday's final session, a total of 162 horses sold for gross receipts of $8,344,950, a 29% increase over last year's third session that saw 183 head sell for $6,468,700. Friday's average price of $51,512 marked a 45.7% spike over the sale average of $35,348 at the corresponding session a year ago. The median price was $25,000; it was $15,000 in the same session in 2020. The buy-back percentage on Friday was 18.2% compared to 16.4% a year ago.
"It was another solid day of trade," said Wojciechowski. "It seemed like there was some urgency by the buyers. It felt like they wanted to get a horse bought today. I'm glad the momentum carried through all three days. I'm happy for our consignors. The consignors certainly had a rough go of it last year, and their fortitude and willingness to keep pressing forward paid off for them this year.
"(The sale was) Solid at the top and some good strength below it," he added. "It was a good horse sale. We're happy."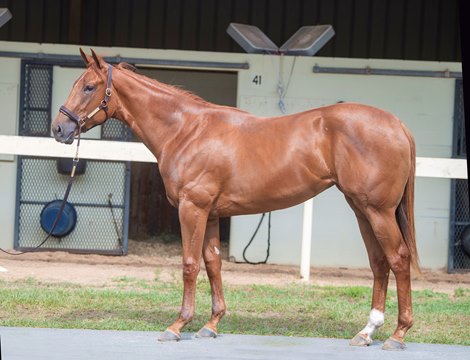 The Practical Joke filly consigned as Hip 258 at the OBS June Sale
Topping the sale at $425,000 was Hip 258, a filly by Practical Joke   who sold to Gary Young, agent for Amr Zedan during the sale's opening session on Wednesday. Bred in Kentucky by White Fox Farm, the filly is produced from the stakes-placed Medaglia d'Oro   mare Devious d'Oro, a half sister to graded stakes winner Devious Intent and to stakes winner and graded stakes-placed Pioneer Spirit.
Previously purchased by Billy Williams for $45,000 out of the Taylor Made Sales Agency consignment at last year's Keeneland September Yearling Sale, the filly breezed an quarter-mile in :21 1/5, a bullet work in the second under tack preview.
Showing the way in Friday's session was Hip 722, a gray or roan filly by Frosted   consigned by Silvestre Chavez Thoroughbreds, agent, who was purchased for $410,000 by Mike Ryan, agent. Bought for owner Jeff Drown, the filly is produced from the Smart Strike mare Saratoga Summer and is a half brother to grade 3 stakes winner Summersault and to stakes-placed Singular Sensation.
The filly was previously purchased by de Meric Stables for Backstretch Farms for $115,000 as a weanling at the 2019 Keeneland November Breeding Stock Sale.
Next up on the OBS sale calendar is the Selected Sale of Yearlings Oct. 12, followed the next day by the Open Sale of Yearlings Oct. 13.