'raintap' by studio floris schoonderbeek is a portable water station that collects rain and converts it into fresh tap water. made of recycled plastic, the durable device features one or more taps, a foot pump and a sink that can transform it from a rain barrel to a washing station or a compact outdoor kitchen. the project seeks to raise awareness of the importance of absorbing and retaining rainwater and the need for solutions to fight climate change.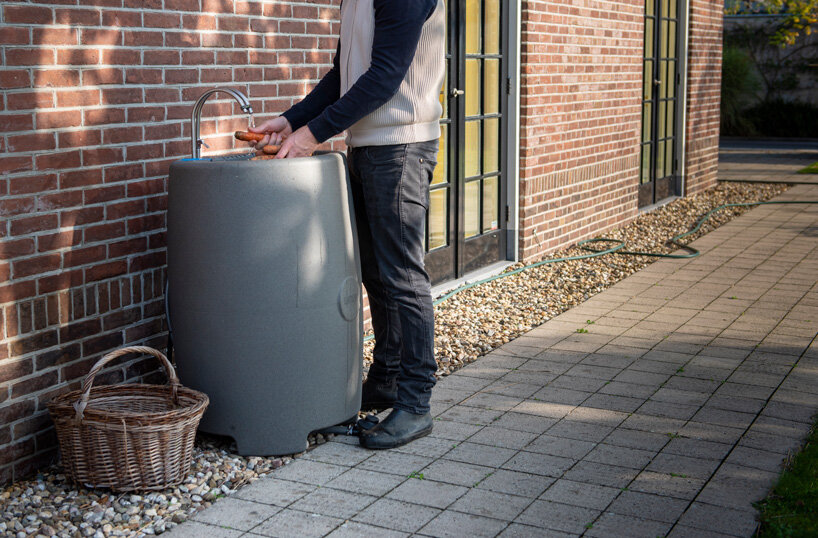 all images courtesy of studio floris schoonderbeek
studio floris schoonderbeek developed raintap to make absorbing and retaining rainwater part of the user's daily routine in an easy and fun way. the durable, mobile water station harvests rain by connecting to any standard rain pipe. the collected rainwater can be pumped up by the foot pump, or can be directly tapped from the small side tap. with the optional fresh water tap, users can always have fresh water available as well. the device can be used as a portable hand-washing and fresh water station for public spaces, such as restaurants, museums, schools, or events, as the foot pump prevents cross-contamination between users. 
'rain is an essential part of life, providing fresh water for our rivers, plants, lakes, animals and ultimately for us,' notes the dutch studio. 'when managed properly, rainwater is a valuable resource. let's start catching the rain and tap into its endless power.'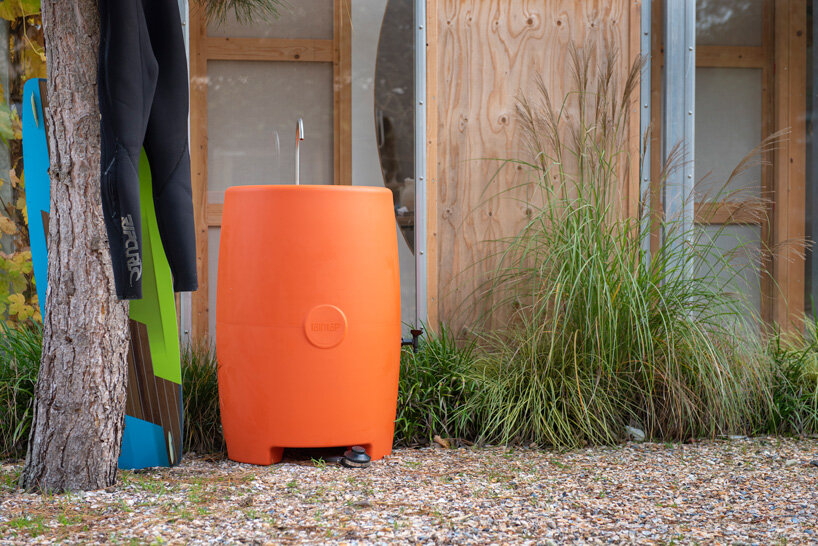 the 'raintap' is designed and produced in the netherlands, carefully crafted from recycled plastic. 'we believe consumer plastics can be transformed beyond single-use into functional, planet-friendly products that are build to last,' adds the studio. 'your trash turned into tanks!'