located in a coastal suburb east of bangkok, thailand-based TOUCH architect's latest project 'villa backyard' responds to the conditions of its site with its dramatically sloping geometry. the area along the gulf of thailand is marked by an excessive level of soil salinity. meanwhile, a man-made reservoir had been introduced to supply drinking water for the community — it has since become brackish and undrinkable. to help transform the reservoir into freshwater, a large amount of rainwater is introduced for dilution. the team at TOUCH architect considers this site condition in the design of its villa backyard, seeking to use architecture as a positive influence on the natural context.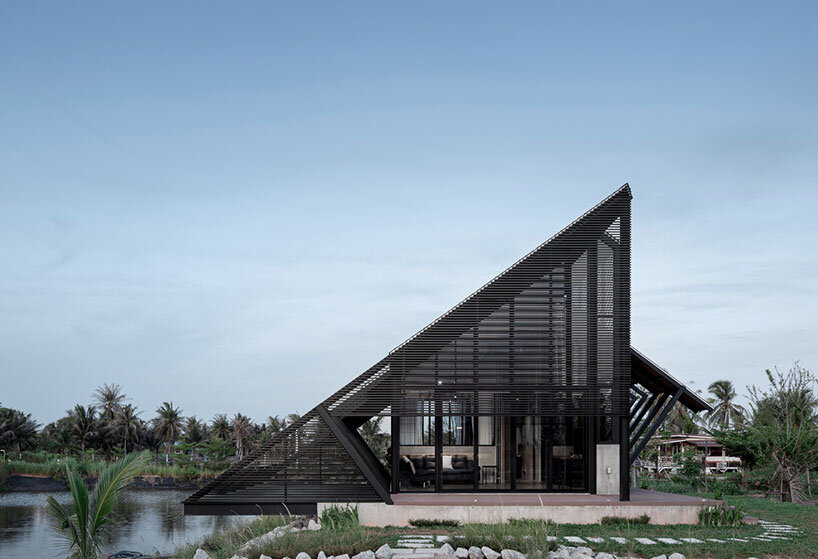 images © anan naruphantawat | @anan.narup
TOUCH architect designs its villa backyard with a dramatically sloping roof. this performative architectural element works to channel fresh rainwater directly into the reservoir to dilute the brackish water. cantilevering over the shoreline, the wedge-like volume originates from a simple cube that had been diagonally slashed in half to generate the monumental roof-wall condition. this element encloses a dwelling which offers all the functions of a compact, affordable, and sustainable single-family residence.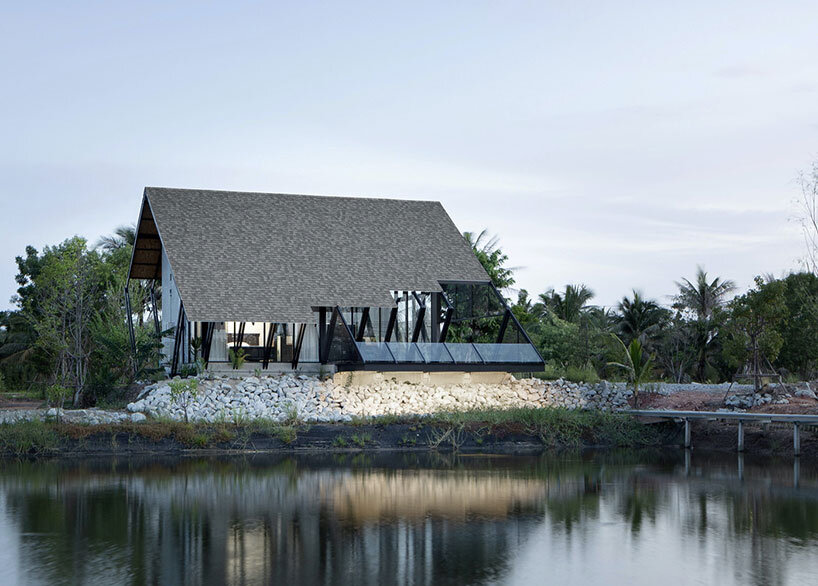 inside, TOUCH architect's villa backyard is organized with an open-plan living space, capable of hosting multipurpose gathering programming. with its waterfront location, a bedroom and an outdoor terrace open out toward views of the water's edge. to celebrate the sweeping view while maintaining shade, the sloped roof plane is serrated and gradually subtracted to act as a shading element as well as gaining hierarchical openness — the highest level of openness at the entrance terrace takes shape as a full-height wall of glazing, while middle and low levels of openness for the living space and bedroom allows panoramic views while occupants are sitting and reclining, respectively.