AD+studio introduces a residential project for a three-generation family in binh duong, vietnam, which is characterized by its staggered arrangement. its intriguing site — a slanted road branching from a lower junction — and its slightly sloped plot, served as the starting point of the conceptual development. furthermore, a serpentine light-pink staircase provides access to the multiple levels of the dwelling.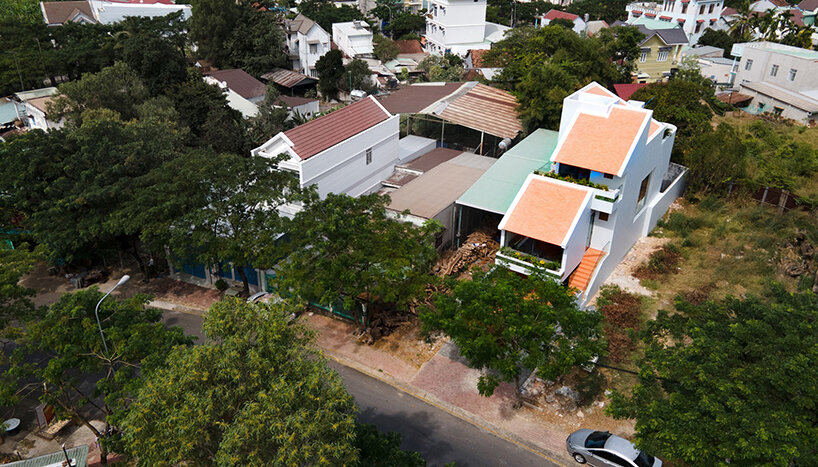 'slope' is the concept that the studio attempted to develop in this project
all images courtesy of dung huynh
as the plot itself sloped gently downwards to the back, it caused a level difference of about 1,5 meters. the brief called for a design that places the master bedroom at the center of the dwelling, providing an overall view of the common space and the grandfather's room on the ground floor. to achieve this, AD+studio vertically divided the structure into two parts reached by two different stairways. the front one serves for social purposes leading from the garage to the living room, while the other addresses family members, directing them to many other spaces crossing grandfather's area.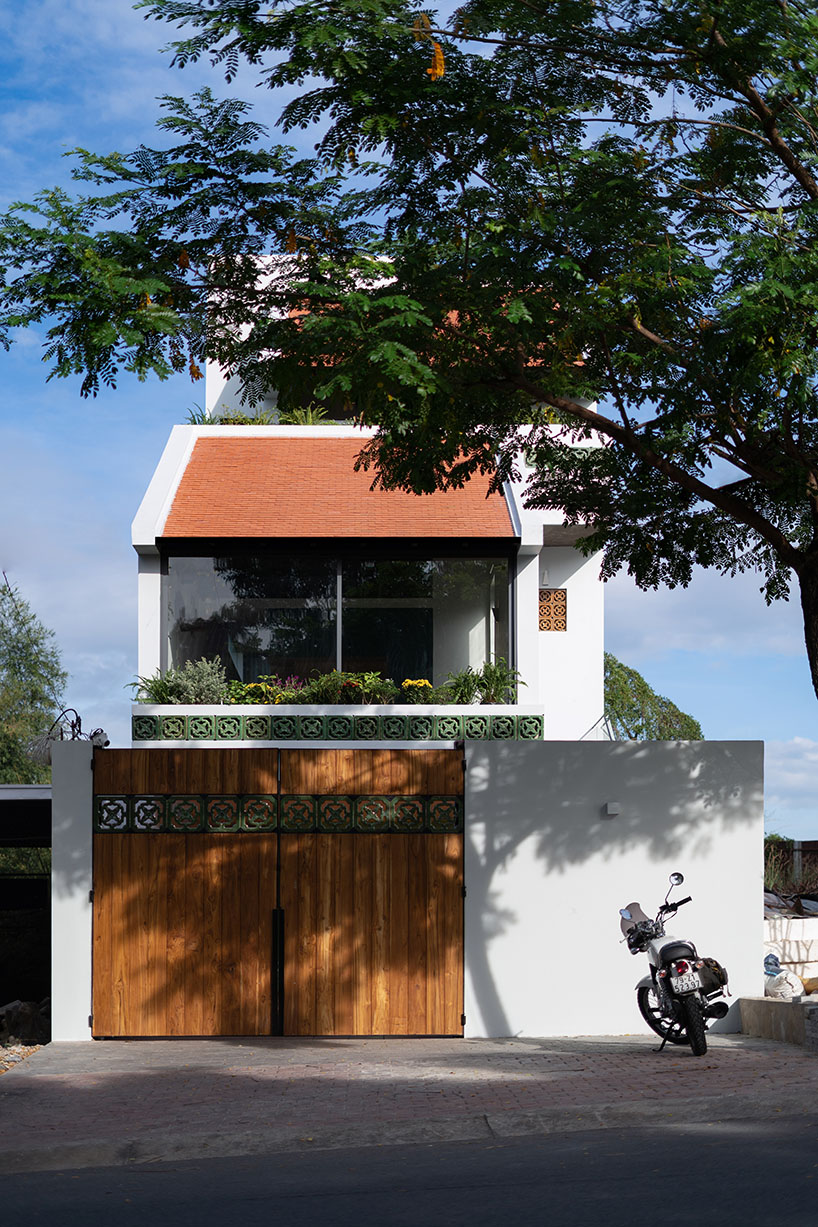 the building was designed for a family of four (grandfather, parents and son)
the pink stairway becomes a flexible structure highlighting the slope and acts as the main feature connecting the whole building. as to utilize the level difference of the sloped terrain, floor slabs were put in a staggered arrangement, creating a semi-outdoor, high ceiling, and airy courtyard, which takes shape as a playground or gathering space for occasional meetings.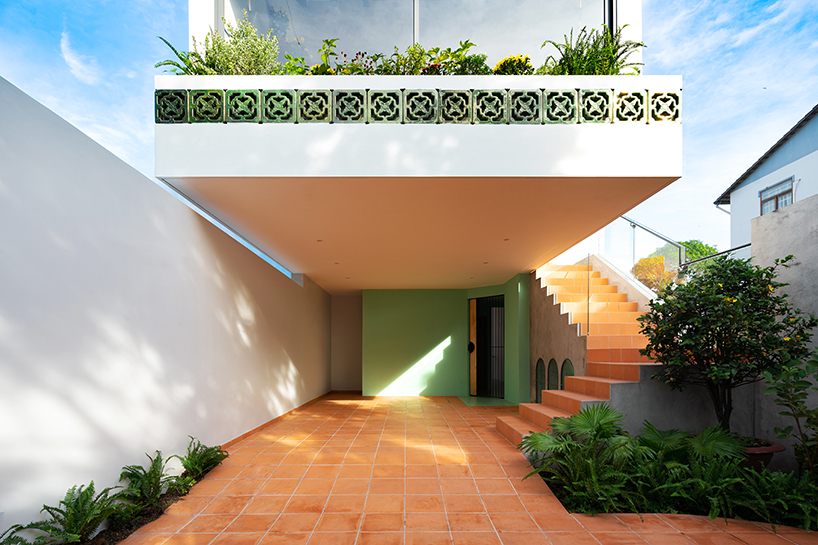 the front staircase leads people from the garage to the living room
instead of stacking the boxes straight up, the architects shifted back the upper volume and simultaneously topped it with a terracotta roof. this way, they attempted to avoid a heavy appearance, especially when viewing the front elevation. once entering the dwelling, the upper volume gradually disappears, while visitors and inhabitants experience a floor-to-ceiling scale which creates a sense of familiarity.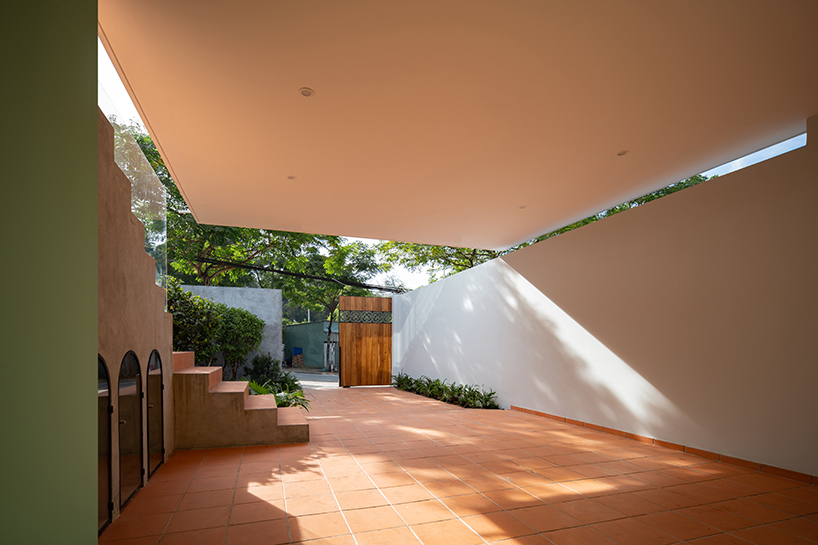 at the entrace, before accessing the dwelling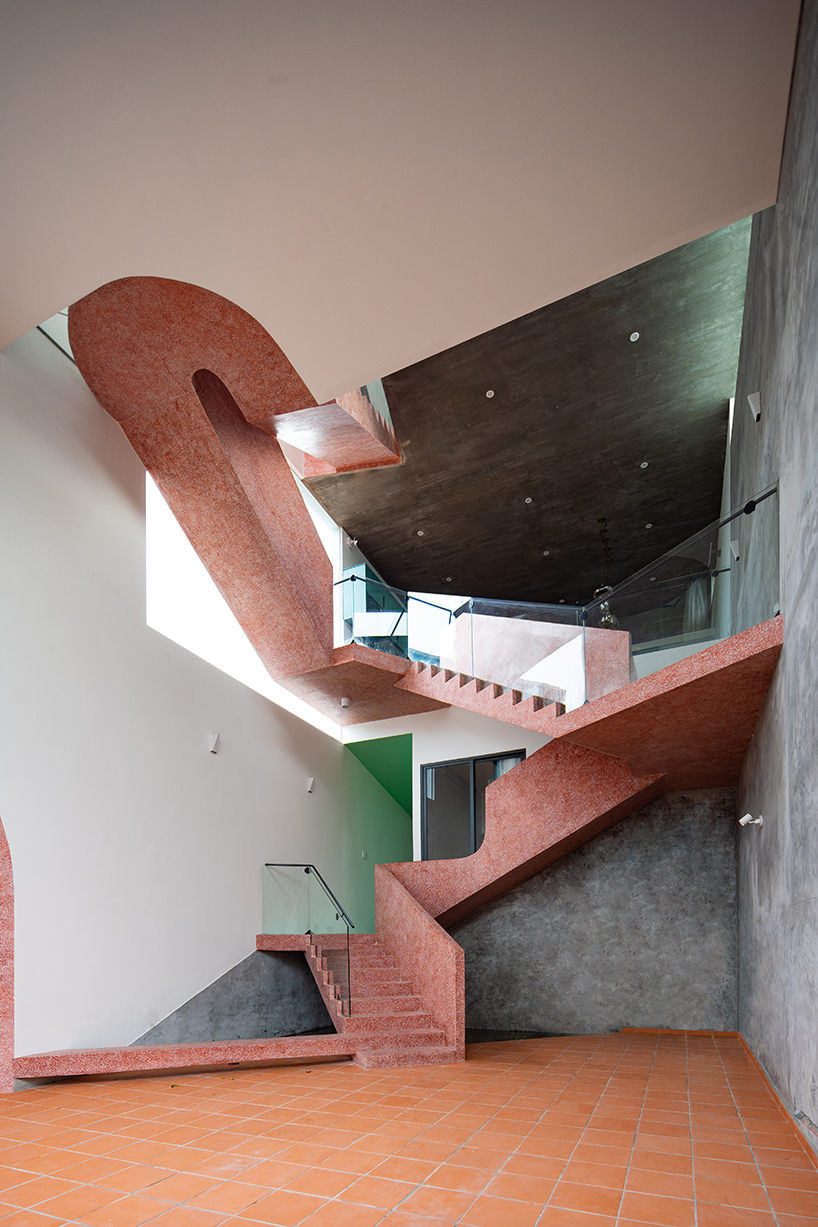 the pink staircase dominates the interior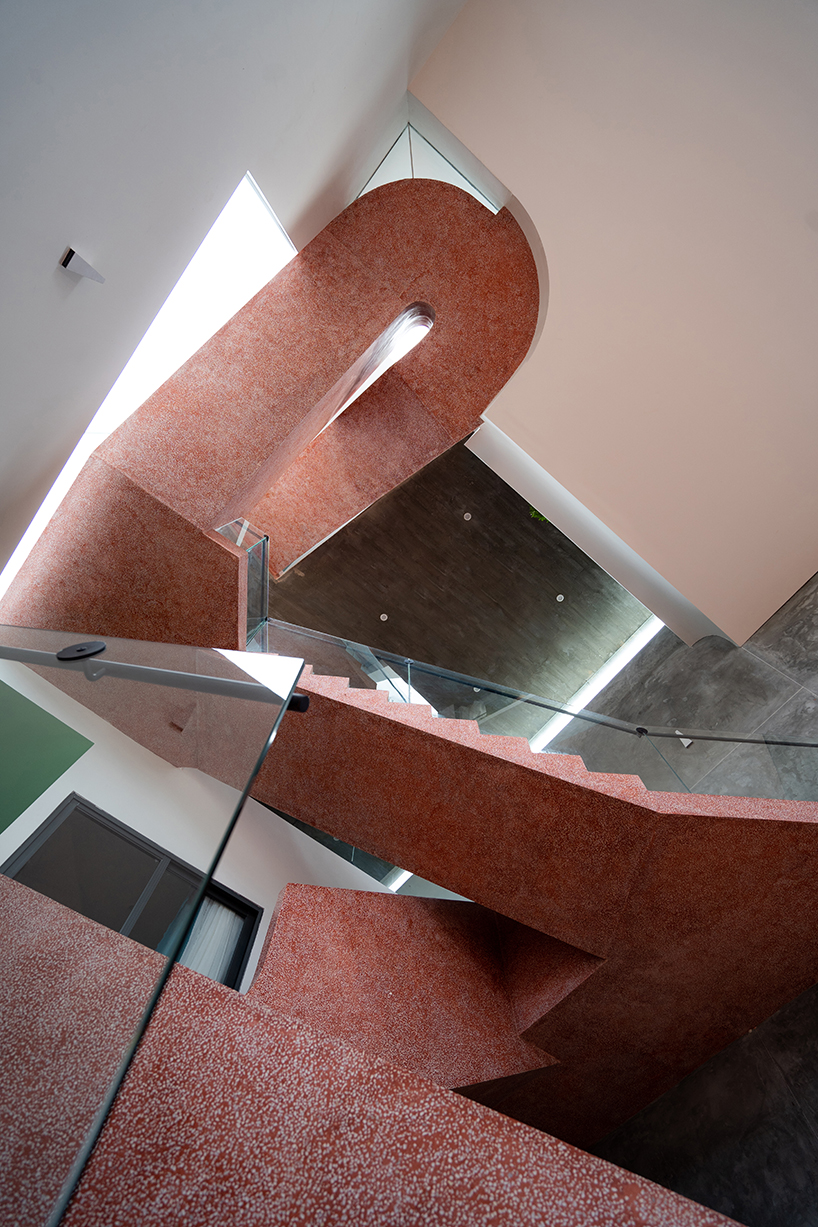 looking upwards to the staircase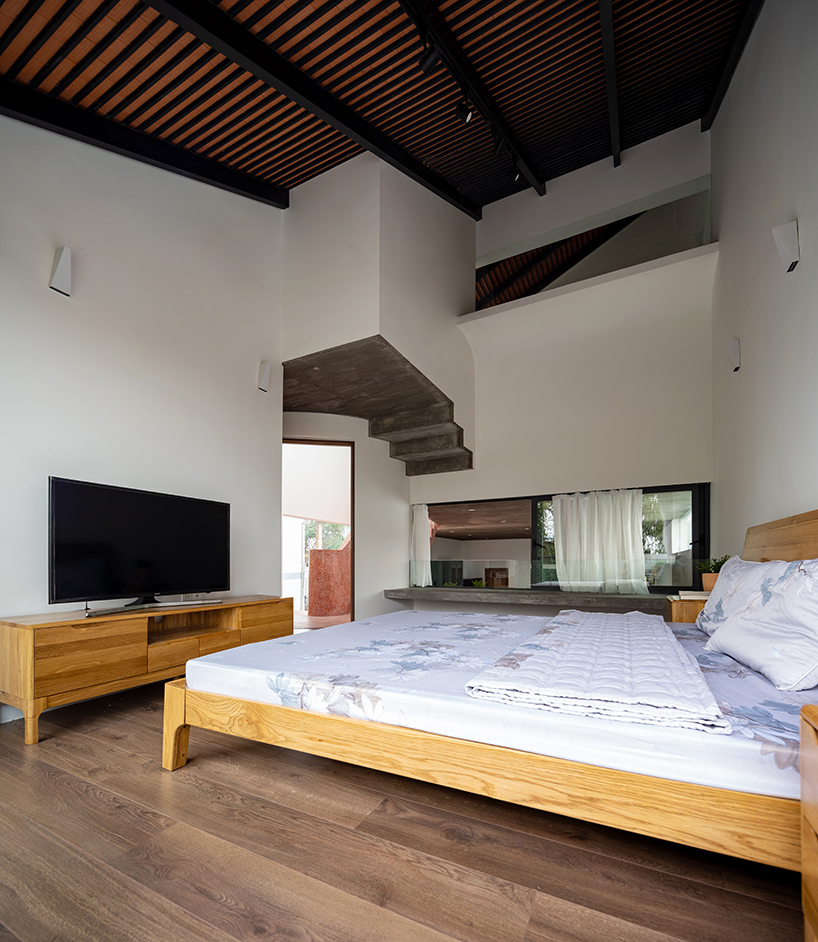 the main bedroom offers an overall view of the common space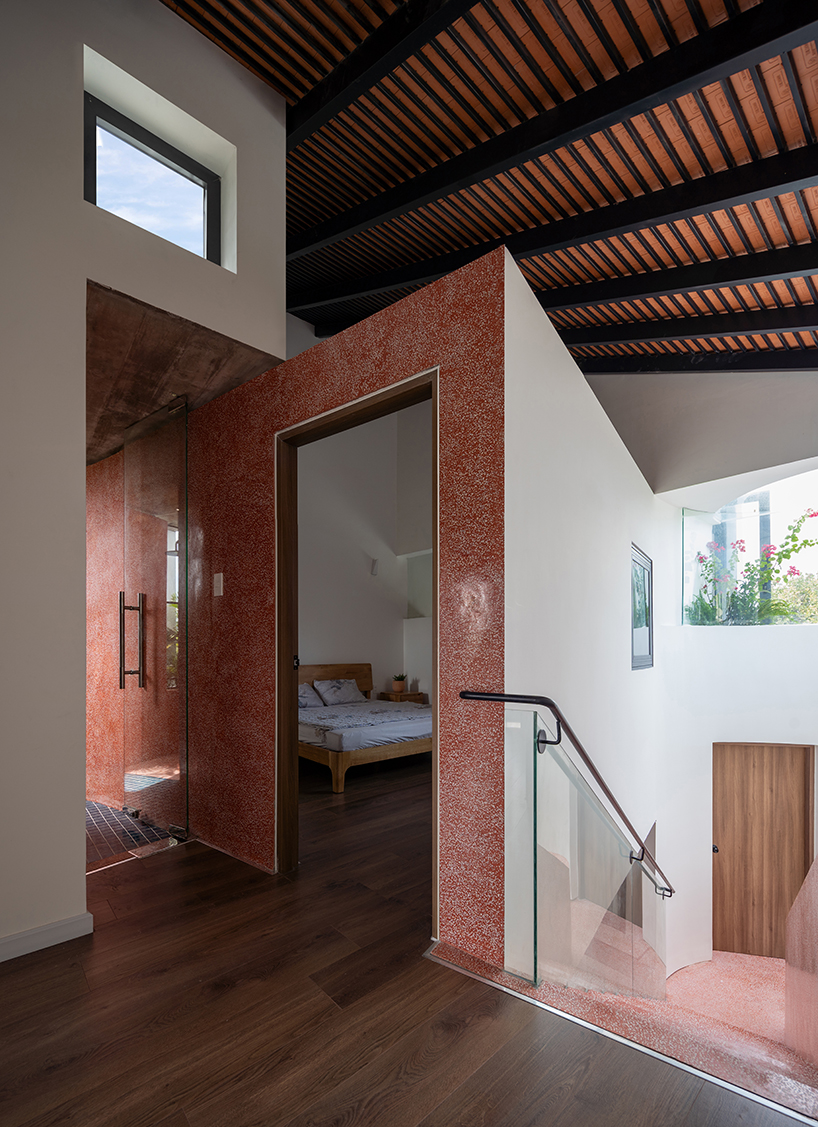 the staircase serves as the main connection across the whole building