through may 8, 2022, the noguchi museum stages an exhibition that explores the ways isamu noguchi reimagined a social purpose for sculpture by drawing from formal vocabularies of architecture. occupying the institution's second floor galleries, noguchi: useless architecture comprises around fifty works mostly drawn from its collection.
the exhibition has been directly inspired by the phrase 'useless architecture, useful sculpture' — a description by noguchi of india's jantar mantar in delhi and jaipur. these astronomical observation sites are home to two of the original five campuses of architectural and instrumental innovations created by the 18th-century maharaja, jai singh II. so large in scale, the conglomeration of instruments and observatories was more recognizable as monumental sculpture or architecture than as functioning devices. 'jai singh's structures are mystical sculptures that define space,' isamu noguchi is quoted in a brief essay accompanying his photographs of the jantar mantar in 'astronomical city,' portfolio: a magazine for the graphic arts, 1, no. 3 in 1951. 'you might call them useless architecture or useful sculpture. they imply a use — much sculpture does that. whether or not they were intended so, jai singh's works have turned out to be an expression of wanting to be one with the universe. they contain an appreciation of measured time and the shortness of life and the vastness of the universe.'
in this context, the phrase 'useless architecture, useful sculpture' speaks to noguchi's desire to sculpt spaces free from the responsibilities of architecture, and to create sculptures with more than a purely aesthetic purpose.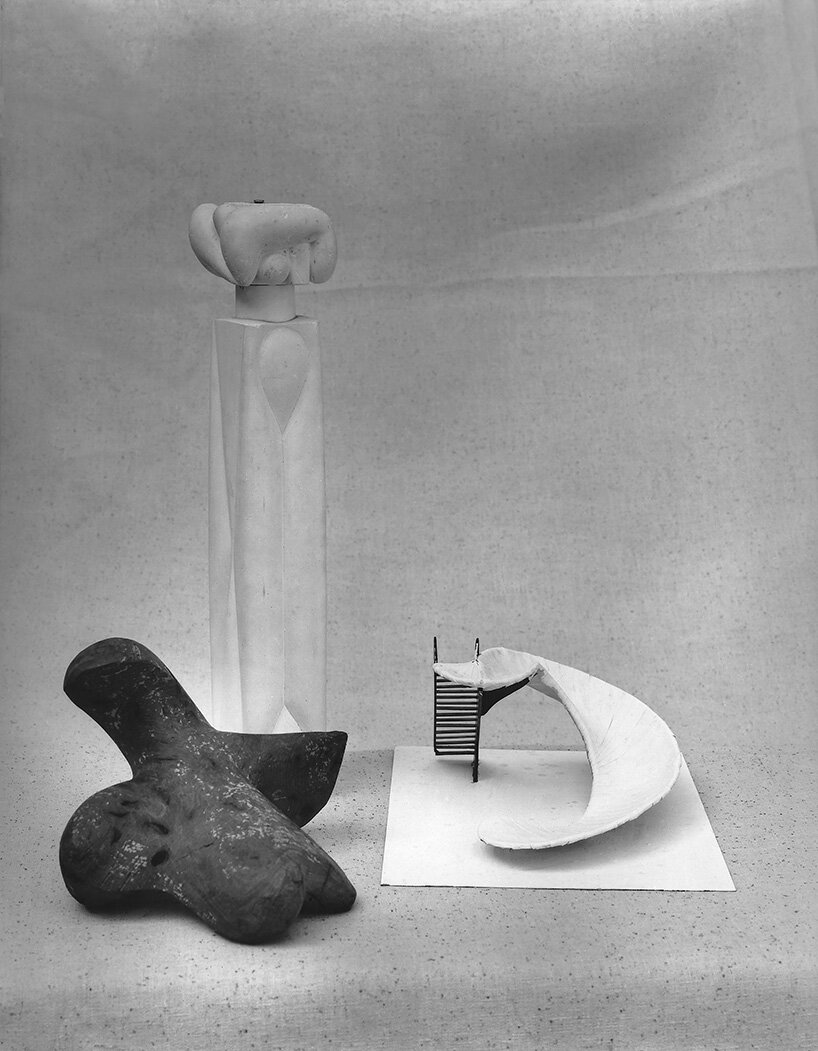 isamu noguchi, capital (model with column), maquette for a slide, and an unknown piece, c. 1939
the noguchi museum archives, 01534 © INFGM / ARS
the exhibition at the noguchi museum unfolds across six thematic installations: ruins, theater space, architectural metaphors, terraces and panorama, postmodern akari, and ends. it explores how noguchi drew on architecture to charge his undertakings to make sculpture civic, communal, and environmental. noguchi often had a contentious, yet productive relationship with architects. 'I always prefer gardens, because I can work there without pressure from anyone,' noguchi stated in a 1957 interview. 'you know how selfishly architects claim the most important role in a building project for themselves. they see our contribution as secondary and they limit our freedom. which is why landscaping a garden is a solution of sorts.' focusing on often overlooked public spaces adjacent to architecture — such as courtyards, patios, and landscaping — noguchi created timeless, humanistic spaces in ways not possible had he needed to adhere to architecture's programmatic responsibilities.
to learn more about noguchi: useless architecture, designboom spoke with dakin hart, senior curator of the noguchi museum and the exhibition's organizer.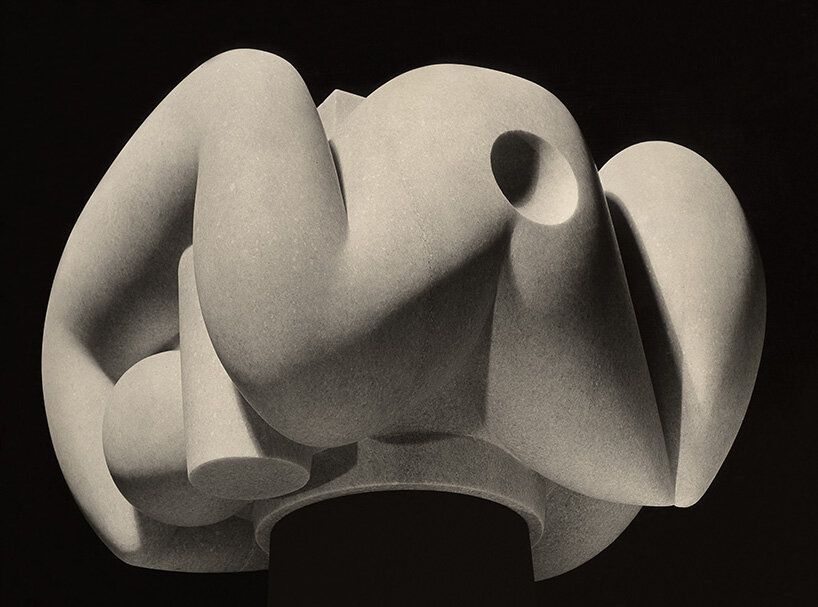 isamu noguchi, capital, 1939
georgia marble | collection of the museum of modern art, new york | gift of jeanne reynal | photo by f. s. lincoln
the noguchi museum archives, 01533 © INFGM / ARS
DB: what does the exhibition reveal about about isamu noguchi's visits to jantar mantar in india, and his interpretations and understandings of the sites?
dakin hart (DH): all of noguchi's spaces are empirical works of conceptual art. he particularly liked sites of civilization where the structure of thought that produced them was revealed — by whatever means and for whatever reason. this sometimes happens with ruins; it's often true of follies; occasionally it's by design; and every now and then it happens by accident. the jantar mantars as a spatial ode to the power of human curiosity and ingenuity are a great example of accidental sculpture in the noguchi sense. they're like a stonehenge with operating instructions. they don't play a direct role in useless architecture — we did a show about those in 2015 — but noguchi's reaction to them, 'useless architecture or useful sculpture,' and his admiration for the aspiration they represent, provide the theoretical framework for the exhibition.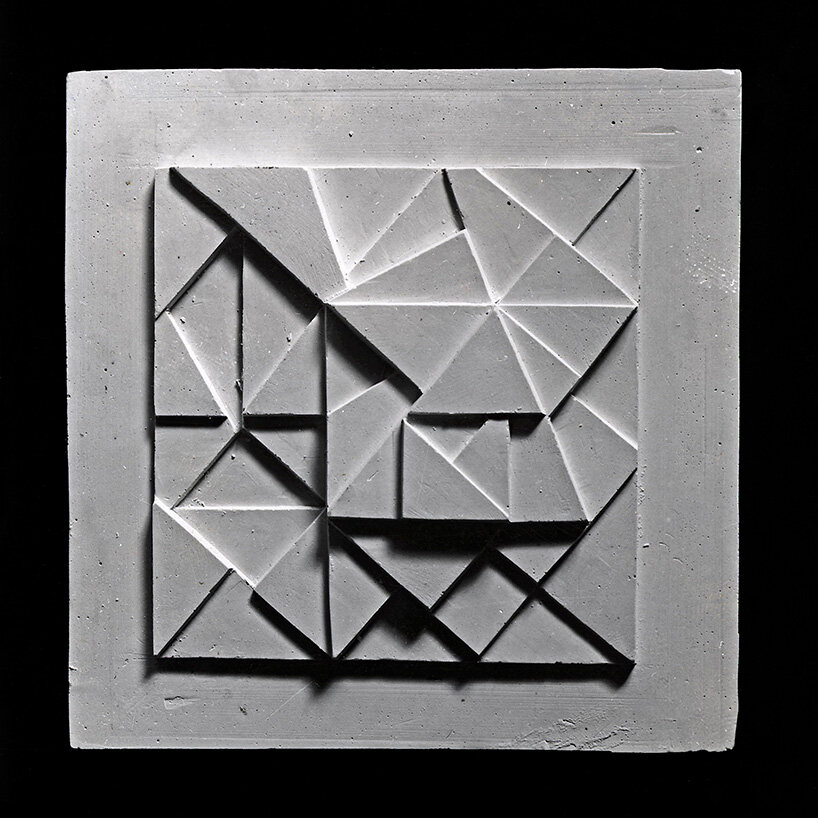 isamu noguchi, riverside playground: play terrace study, c. 1961 | plaster
the noguchi museum archives, 01952 © INFGM / ARS
DH (continued): the jantar mantars are important because, as they exist now, they seem so remarkably ambitious in a human sense, while being impossible to categorize. are they ruins? they look like degraded architecture. but they were created as astronomical instruments. on an insane scale. and now they resemble earth or land art: giant sculptural installations. (micheal heizer, robert smithson, nancy holt, eat your hearts out.) what noguchi found there was a perfect blend of charged but ambiguous body-space devices, as we labelled such objects in another exhibition. they look like their only purpose is to orient us to the world in a way we don't exactly understand, and that's exactly right.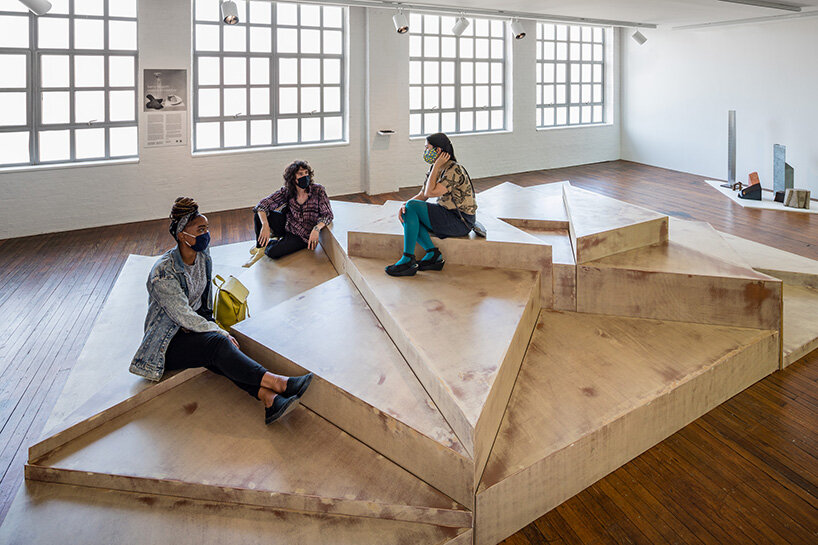 installation view of noguchi: useless architecture | image by nicholas knight © INFGM / ARS
DB: in developing the exhibition, what did you learn about isamu noguchi's efforts to make sculpture social, communal, and environmental that you might not have previously known? did anything surprise you?
DH: we generally develop these thematic exhibitions in a couple of years. this one was always envisioned as a followup to body-space devices, and then it was delayed a year by the pandemic, so we've had more than four years to think about it. but it really changed most dramatically over the last year as we've had time to process the implications of the black lives matter movement: to think about fundamental, structural power imbalances and inequalities. noguchi was someone who taught himself how to generate power to shape the world from the margins. as we thought about that, we definitely put more emphasis on his approach to his working relationship to architecture and architects: how he learned to dominate the buildings to which he was often thoughtlessly asked to contribute something the architect didn't care about or wouldn't mind. noguchi specialized in finding the in-between places in those projects — in budgets and ancillary spaces. in figuring out how to introduce his vision into those cracks, and like a climbing vine, to become inextricably and transformatively invasive.